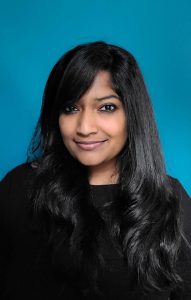 CHRT Teams
Communications
Education
BS Health Science, Manipal University; BS Biological Science, University of Michigan - Dearborn; MS Candidate, University of Michigan School of Information
Vinusha Devarakonda
User Experience Intern
Vinusha is a master's student at the University of Michigan School of Information with a focus on human-computer interaction and user experience (UX) research and design. During her time at the School of Information, she has worked on various UX projects with clients such as the Department of Veteran's Affairs, Gale Cengage, and the Michigan Institute for Clinical Health Research (MiCHR).
At CHRT, Vinusha will support CHRT's communications team as it conducts an analysis and usability testing of the Washtenaw County Community Mental Health website. She is passionate about incorporating accessibility into design and using design principles to promote inclusivity and equity. She is especially interested in the intersection of health and UX design.
Vinusha holds a bachelor of science degree in health science from Manipal University, a bachelor of biological science from the University of Michigan – Dearborn and has experience as a network engineering consultant at AT&T.