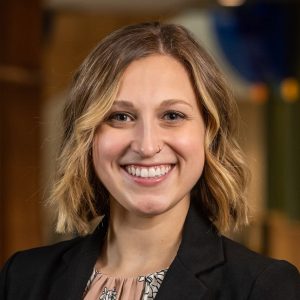 CHRT Teams
Data analytics
Education
BSN, University of Michigan
Abigail Lindsay
Data analytics Intern
Abigail Lindsay is working on CHRT's policy data analytics team to improve community-based long-term care services for vulnerable seniors and individuals with disabilities.
Lindsay is a second-year master's student at the University of Michigan's School of Public Health concentrating in health management and policy. She is passionate about improving community health by advocating for just policies that address upstream social determinants of health. She has interests in aging, health equity, healthy community design, health care reform, and social welfare programs.
She obtained her bachelor's degree in nursing from the University of Michigan in 2017. Before starting her master's, she practiced as a critical care registered nurse delivering clinical care at teaching hospitals, where she led quality improvement projects to enhance patient safety. Additionally, she worked as a nurse epidemiologist for the Detroit Health Department where she managed a specialty COVID-19 investigation team that assessed infection control practices to isolate and interrupt outbreaks in nursing homes.