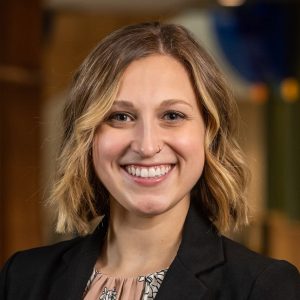 CHRT Teams
Data analytics
Health policy
Abigail Lindsay
Health Policy Analyst
Abigail Lindsay is a health policy analyst at CHRT, on the health policy team. She specializes in integrating health and social services to improve care for adults with complex needs, particularly those who are eligible for both Medicaid and Medicare. Lindsay is deeply committed to promoting health equity and actively supports projects related to healthy aging and health-related social needs.
While obtaining her master's degree, Lindsay managed a research project that evaluated insurance premium rates, specifically exploring the impact of the Healthy Michigan Plan on rate changes. In this role, she led the analysis of rate filings and conducted key informant interviews.
Before joining CHRT, Lindsay was a nurse epidemiologist for the Detroit Health Department. She managed a specialty COVID-19 investigations team that assessed infection control practices to isolate and interrupt outbreaks in nursing homes.
Lindsay's public health journey is complemented by her experience as a critical care registered nurse in medical and cardiac intensive care units. As a nurse, she provided clinical supervision and led quality improvement projects to enhance patient outcomes and safety.
Lindsay holds two degrees from the University of Michigan: A Master of Public Health (MPH) degree in health management and policy and a Bachelor of Science  Degree in Nursing.