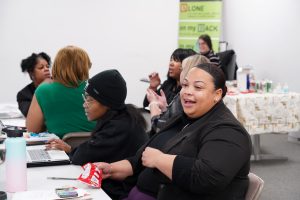 CHRT Fellowships
CHRT currently offers two fellowships in health and human services policy.
CHRT's Health Policy Fellowship
CHRT's four-month Health Policy Fellowship at the University of Michigan connects policymakers, researchers, and nonprofit professionals. Fellows learn about the intersection between health research and health policy from subject-matter experts and from each other. Since the fellowship began in 2012, more than 100 fellows have graduated. Many now hold key legislative and policy positions across Michigan.
CHRT's Detroit Health Department Fellowship
The Detroit Health Department (DHD) Fellowship trains staff in systems thinking, communications, policy engagement, and data analytics in order to improve collaborative and cross-systems work, to eliminate silos, and to better address social determinants of health. With support from U-M Poverty Solutions and the DMC Foundation, the DHD Fellowship has helped fellows develop essential health service delivery skills since 2019. 
For more information, contact Holly Quivera Teague at hquivera@umich.edu 
Learn more about CHRT's Health Policy Fellowship.
Learn more about the Detroit Health Department Fellowship.