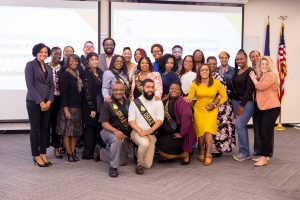 Detroit Health Department Fellowship
In 2019, with support from U-M Poverty Solutions and the DMC Foundation, the Detroit Health Department (DHD) and CHRT together launched a new fellowship program for front-line DHD staff. While many public health training programs focus on specific health needs or concerns, this fellowship was based on elements of the deBeaumont Foundation's call to action for a more strategic public health workforce. It focused on developing essential skills and knowledge that would positively impact health service delivery in Detroit.
CHRT trained two cohorts of DHD staff in four key areas — systems thinking, communications, policy engagement, and data analytics — in order to improve collaborative and cross-systems work, eliminate silos, and better address social determinants of health. The fellowship brought together DHD staff from a wide variety of departments and roles, including maternal and child health, environmental health, lead poisoning prevention, child and adult immunizations, and more.
After the COVID-19 pandemic magnified the need for a robust public health workforce, CHRT and DHD decided to offer two additional cohorts of frontline DHD workers an updated version of the 2019 fellowship.
In this fourteen-week program, the DHD fellows discussed complex public health issues and tangible ways to affect change.
Interactive sessions from expert speakers included:
Survey Methods, presented by Marissa Rurka
Policy Engagement, presented by Erica Matti & Wendy Hawkins
Systems Thinking, presented by Terrisca Des Jardins
Project Management, presented by Robyn Rontal
Data Analytics, presented by Jaque King & Wendy Hawkins
For more information, contact Holly Quivera Teague at hquivera@umich.edu
Meet our 2023 DHD Fellows.
Meet our 2019 fellowship alumni.