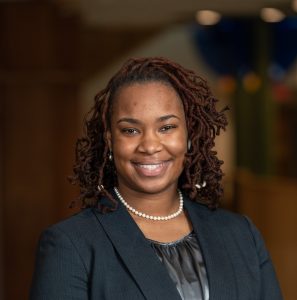 Asha McElroy
Site Coordinator , Food Warriors After-School Program
Asha McElroy is a second-year student student at the University of Michigan pursuing a master's of public health (MPH) in nutritional Science with a concentration in dietetics. In addition to attending the University of Michigan full-time, McElroy works as the site coordinator for the Food Warriors Youth Development Program. The program is housed within the Detroit Black Community Food Security Network (DBCFSN). Her current work incorporates innovative design of nutrition education curricula that centers foods indigenous to African culture while helping elementary school students learn how science connects to their everyday life.
During the summer of 2022, McElroy interned at the Harvard Law School Food Law and Policy Clinic, which fostered an in-depth understanding of food policy. She contributed to writing policy recommendations for the White House Conference on Hunger, Nutrition, and Health. Additionally, she analyzed existing public policies, such as the Supplemental Nutrition Assistance Program (SNAP), and wrote policy recommendations specific to enhancing nutrition research to inform food policy initiatives in the future.
In 2020, McElroy was elected as a youth at-large council member on the Detroit Food Policy Council (DFPC). This position furthered her desire to advance equitable food policies using community-based participatory research as a basis to increase food accessibility and affordability via food policies for communities of color. Her goal is to improve the health outcomes of African American communities as a registered dietitian nutritionist (RDN). She believes RDNs have the potential to play an integral role in improving food security at the individual level through the development of behavioral health interventions designed to improve food access, availability and literacy.
McElroy's background is rooted in the intersectionality of urban agriculture and using qualitative research to incorporate community members with lived experience into local advocacy efforts. She holds a bachelor's degree in food and nutritional sciences, with a concentration in human nutrition, from North Carolina Agricultural and Technical State University.