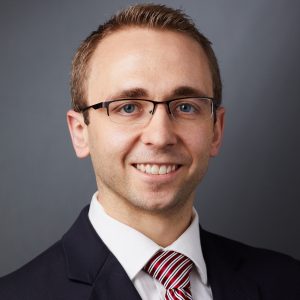 Dr. Eric J. Brandt
Cardiologist and lipidologist , Michigan Medicine
Dr. Eric J. Brandt is a cardiologist and lipidologist (cholesterol management). Dr. Brandt studies the effects of nutrition policy on population outcomes. He is interested in evaluating the clinical and healthcare implications of current and planned nutrition policies at the federal, state, and local level, especially among socioeconomically disadvantaged individuals. 
As an internal medicine resident, Dr. Brandt served as the Illinois State Medical Society's Resident Delegate and put forth two resolutions that were adopted by the American Medical Association: "Banning the Use of Artificial Trans Fats in the United States" and "Taxation of Tobacco Products." His work on the New York trans-fat restrictions in restaurants supported the current US ban on trans-fat. His finding that about 90% of Supplemental Nutrition Assistance Program participants in food deserts reside in grocery delivery areas supported opening the Online Purchase Pilot to all states during the pandemic.
Dr. Brandt was recently awarded a K23 Career Development Award through the National Institute of Health's National Institute on Minority Health and Health Disparities for his project entitled "Cardiovascular outcomes related to nutrition policies among socioeconomically disadvantaged populations". He also studies the epidemiology of lipoprotein(a), among other lipidology topics.  
Dr. Brandt's clinical training in New Haven, CT, and south Chicago, IL, drew his attention to how starkly the social determinants of health sustain disparities in cardiovascular disease outcomes. His goal is to become an independent clinician investigator and leading cardiovascular health services researcher who influences policy changes to reduce health disparities in cardiovascular disease among disadvantaged populations. 
Dr. Brandt completed his undergraduate degree in biochemistry at the University of Michigan-Dearborn, his doctorate in medicine at Case Western Reserve University School of Medicine, then went on to complete his internal medicine residency at the University of Chicago and Cardiology Fellowship at Yale New Haven Hospital. He completed his master's in health sciences through the National Clinician Scholar Program at Yale University.