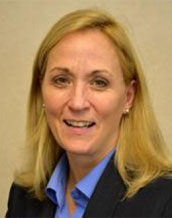 Education
Legislative Liaison
Karla Garcia, MSA
Legislative Liaison , Michigan Department of Community Health (MDCH)
Karla Garcia serves as the legislative liaison for MDCH. Garcia works on behalf of the Department with members of the Michigan House of Representatives, Michigan Senate, legislative staff, and representatives in Governor Rick Snyder's office.
Garcia comes to MDCH from the office of Representative Bob Genetski, where she has served as his legislative aide since 2008. Prior to that, Garcia was the government relations manager for TAP Pharmaceuticals, Inc. and Takeda Pharmaceuticals, U.S.A, Inc. She has also worked as the government and community relations administrator for HealthPlus of Michigan and spent several years as the legislative aide for former Michigan Representatives Terry Geiger and Gary Newell while both served as chairmen of the Michigan House Subcommittee on Community Health.
Garcia earned her bachelor's degree from Cleary University and holds a Master of Science in Administration in health care management from Central Michigan University.