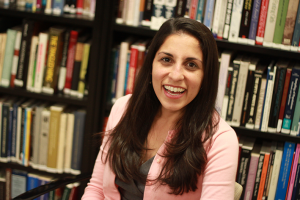 Michelle Moniz, MD
Assistant Professor of Obstetrics and Gynecology , University of Michigan
Dr. Michelle Moniz is an assistant professor in the Department of Obstetrics and Gynecology and Institute for Healthcare Policy and Innovation (IHPI) at the University of Michigan. She received her medical degree from Washington University in St. Louis and completed residency training in obstetrics and gynecology at the University of Pittsburgh Magee Womens Hospital.  She went on to complete the Robert Wood Johnson Foundation Clinical Scholars Program and to earn her master's degree in health and healthcare at the University of Michigan.
Moniz has a busy generalist obstetrics and gynecology practice at the Northville Health Center and loves working on labor  and delivery at the Mott-Von Voigtlander Women and Children's Hospital. She is part of the Program on Women's Healthcare Effectiveness Research (PWHER), a collaboration of health services researchers focused on improving value and outcomes in reproductive healthcare.  She is also a co-investigator for the Michigan Value Collaborative Obstetrics Initiative, a quality improvement initiative to improve outcomes and safely reduce costs of maternity care in Michigan.
Moniz's primary research efforts are focused on identifying evidence-based strategies for implementing immediate postpartum long-acting reversible contraceptive care in Michigan. She also studies the impact of healthcare reform on women's access to care and out of pocket care costs. She is deeply committed to translating research into real-world impact to improve the healthcare system and enjoys translating complex scientific findings into simple, compelling, memorable language for the media, the public, and policymakers.