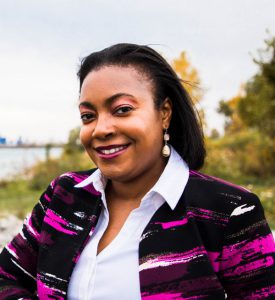 Education
MPP, University of Michigan-Dearborn, BA, University of Michigan-Ann Arbor
Myra M. Tetteh
Senior Healthcare Analyst
Myra M. Tetteh is a senior healthcare analyst at CHRT. She provides project management to the Vital Seniors Initiative, a convening of multiple organizations in Washtenaw County creating actionable solutions to problems faced by seniors and their caregivers.
Prior to joining CHRT, Myra worked with the Blue Cross Blue Shield of Michigan Foundation where she developed program evaluation measures for grantees, wrote and reviewed requests for proposals, and revamped multiple award programs. She also worked as a program coordinator on the translation of physical science to urban community audiences at two federally-funded research centers, Michigan Center on Lifestage Environmental Exposures and Disease (M-LEEaD) and the Michigan Center for Integrative Approaches to Health Disparities (CIAHD). In addition, Myra formerly served as the public health policy analyst at the Detroit Health Department where she coordinated multiple projects, including work on food systems and the built environment.
Myra holds a doctorate in public health from the University of Michigan School of Public Health, a master's degree in public policy from the University of Michigan-Dearborn, and a bachelor's degree in political science and sociology from the University of Michigan-Ann Arbor.