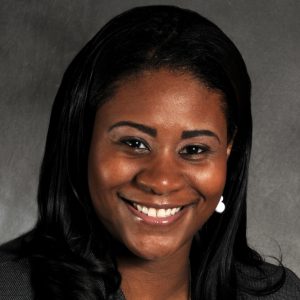 CHRT Teams
Administration
Education
JD, University of Detroit Mercy School of Law
BA, Michigan State University James Madison College
Tiffany R. Brent
Business Development Director
Tiffany Brent is CHRT's business development director. She has extensive experience in the public health sector, working in the nonprofit health care community with and for various organizations, partnerships, and collaborations throughout her career. Brent was executive director of Voices of Detroit Initiative (VODI), a nonprofit health care agency focused on ensuring access to quality health services for city residents who were uninsured, and deputy coalitions director for a United States Senate campaign.
Brent worked with the Southeast Michigan Beacon Community (SEMBC), funded by the U.S. Department of Health and Human Services. As manager of clinical transformation at SEMBC, she developed and implemented a project using patient health navigators, community outreach workers, to empower patients to better self-manage their chronic conditions. In addition to various other health care programs, Brent helped develop and implement a project for local emergency departments to decrease unnecessary utilization.
Brent served as associate program manager for community health at the Greater Detroit Area Health Council (GDAHC), a multi-stakeholder health care coalition in southeast Michigan. While there, she worked on community health initiatives surrounding access to care and community outreach. Prior to this position, Brent worked with GDAHC's Save Lives Save Dollars (SLSD) initiative, a program designed to address health care cost and quality concerns. At GDAHC, Brent was instrumental in orchestrating a regional conference highlighting the value of collecting data about patient's race, ethnicity, and primary language.
Most recently Brent was a contracts specialist with Soar Technology, Inc., an artificial intelligence and simulation technology company providing services to the U.S. Department of Defense. She was lead on all subcontracting efforts and procurement, and oversaw trademarking activity. Brent also served as a corporate attorney and contract specialist for Altarum Institute and as a private practice attorney in the areas of civil business litigation, ecclesiastical law, family law, and probate court.
Brent holds a juris doctorate from the University of Detroit Mercy School of Law. While attending, she was vice president of the Black Law Students Association (BLSA), a governing council member of the State Bar of Michigan Law Student Section, and a student mentor. Brent earned her bachelor's degree in social relations and policy from Michigan State University James Madison College. She has one daughter, Brielle.