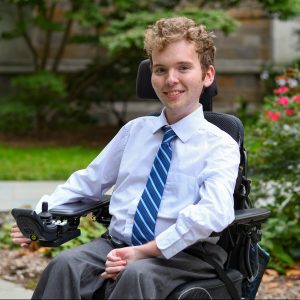 Vincent Pinti
Program Coordinator , Olmstead Coalition
Vincent Pinti serves as program coordinator for the Olmstead Coalition, an advocacy organization for people with disabilities and older adults, and engages in outreach for the MI Choice, Community Transition Services and PACE Ombudsman Program (MICPOP) at the Michigan Elder Justice Initiative (MEJI). As a part of MEJI, he has advocated for options counseling, maintaining Covid-19 pay, and reforming community mental health self determination plans. Pinti has served in student government, as a research assistant for several professors, as a group facilitator for the Global Scholars Program, and as a mentor and student instructor.  He received the Neubacher Award for outstanding advocacy in 2020. 
Pinti advocates for disability rights and improved access to college and careers for persons with developmental disabilities. He has founded two scholarships for University of Michigan students who helped advance inclusion for students with disabilities. He is also in the process of developing a permanent database of students interested in being personal care assistants for older adults or people with disabilities. 
Pinti is devoted to improving access to opportunities for people with developmental disabilities and ensuring that they are able to live healthy lives and feel included in their communities. Pinti graduated from the University of Michigan and will be a JD candidate for the class of 2026 at the University of Michigan's School of Law. He plans to pursue a career in Medicaid and health law.