"Being able to work and interact with people from different backgrounds and perspectives showed us all that we're actually not that different.

Bridging gaps like that are so important for public policy and it helps us all work towards building better communities and a better society.

If there were more fellowships or opportunities like this, I think we might live in a very different world. I'm just very grateful to have had the opportunity to meet everyone, exchange ideas, and debate timely public policy issues."

—Sarah Smock, Health Policy Advisor, Michigan State Senate Majority Policy Office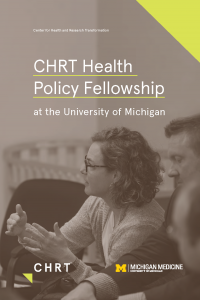 The CHRT Policy Fellowship at the University of Michigan brings together policymakers and researchers to learn about health policy and the research process — and the intersection between the two — from subject-matter experts and each other.
Over four months, fellows meet in Ann Arbor for seven, day-long seminars on public health policy and current issues affecting health policy and practice in Michigan and across the nation. Fellows also take experiential learning trips to Detroit, Lansing, and Washington, DC, to see health policy and practice in action. Many former fellows now serve in key legislative positions in Michigan and Washington, DC, influencing state and federal policy.
Since 2012, nearly 100 fellows have graduated from the CHRT Policy Fellowship program and their fellowship projects have included:
Collaborating with the Michigan Council for Maternal and Child Health to work toward updating child passenger safety legislation in Michigan.
Partnering with CHRT, the Michigan Health and Hospital Association, and the State of Michigan to begin to organize a statewide work group for sepsis care coordination.
Partnering with the Michigan League for Public Policy to help expand the Healthy Kids Dental Program in all 83 Michigan counties.
Developing, in conjunction with the American Heart Association, a statewide, regional approach to better respond to medical emergencies in a timely manner.
Building connections with policymakers across the aisle to introduce legislation that expands the scope of practice for nurse practitioners.
For more information and to apply for the upcoming class, contact Ryan Bartholomew at ryansbar@med.umich.edu