Board member Renu Tipirneni receives the Jerome W. Conn Award for Excellence in Research
November 17, 2022 | CHRT News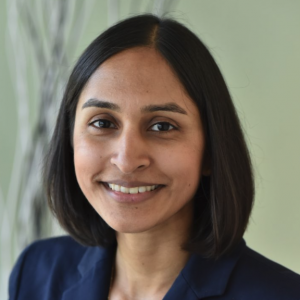 In June, CHRT Board of Directors member Renu Tipirneni received the Jerome W. Conn Award for Excellence in Research from the University of Michigan Department of Internal Medicine.
Dr. Tipirneni is an assistant professor at the medical school. Her research focuses on health reform, Medicaid policy, healthy aging, and social determinants of health. 
Her current research includes evaluating Michigan's Medicaid expansion and work requirements policy, exploring integration techniques for behavioral and physical health care, and screening for social needs in health care settings. 
At CHRT, Dr. Tiprineni is involved with the Promotion of Health Equity project, which aims to significantly reduce health disparities for vulnerable residents in five Michigan counties. She will help develop a system to share data between relevant health and social service providers to facilitate improved care. 
"Using data and building collaborative partnerships will ensure that everyone has the best chance of optimal health outcomes," says Dr. Tiprineni in a press release. 
In addition to her role and research at the medical school, Dr. Tipirneni is a faculty advisor to IHPI's Policy Engagement & External Relations team and as co-director of National Clinician Scholars Program.