Joshua Traylor named executive director of the Center for Health and Research Transformation
August 30, 2023 | CHRT News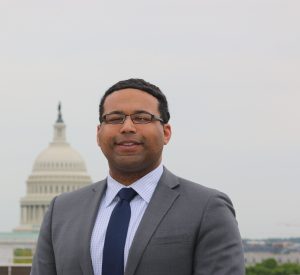 Joshua Traylor, MPH, senior director at the Health Care Transformation Task Force in Washington, DC, has been named executive director of the Center for Health and Research Transformation (CHRT), an independent nonprofit policy center at the University of Michigan. Traylor will take the helm on November 1.
"The board was unanimous and enthusiastic about selecting Joshua Traylor for the role of executive director," says Tony Denton, CHRT board chair and senior vice president and chief operating officer of the University of Michigan Health System – Michigan Medicine. "Traylor's work with diverse stakeholders, his systemic approach to complex challenges, and his commitment to health equity will advance CHRT's mission to inform and support policies and practices that improve population health." 
Throughout his career, Traylor has developed deep expertise in health care reform strategies and has led cross-sector work to extend care to the uninsured and to address barriers to successful reform efforts in Medicare, Medicare Advantage, Medicaid, state employee, and privately insured populations. 
As a senior director of the DC-based Health Care Transformation Task Force, Traylor has worked with health care providers, purchasers, patient advocates, policymakers, and regulators to develop recommendations and resources for public and private sector payment and care delivery improvements. He has also worked with federal agencies and stakeholders and collaborated on a series of grants aimed at enhancing health equity, improving maternal health, involving patients and communities in health care decision-making, and addressing health-related psychosocial needs. 
Prior to his role at the Task Force, Traylor was a member of the Prevention and Population Health Group and the State Innovations Group at the U.S. Center for Medicare and Medicaid Innovation. At the Innovation Center, Traylor worked on the design of the Integrated Care for Kids Model, developed financial models to forecast the impact of proposed care delivery and payment reforms, identified strategies and recommendations for Medicaid care delivery and alternative payment reforms, and worked with State Innovation Model awardees to implement Medicaid reforms.
"My first position after graduate school was as an early career fellow at CHRT working on data analytics and the Washtenaw Health Initiative. The fellowship experience was invaluable for me and continued to inform my work at CMMI and HCTTF," says Traylor. "I am thrilled to have the opportunity to work with the talented CHRT staff, board members, and partners to further CHRT's mission of improving the health of people and communities and to continue to develop future leaders in this space." 
"The board is deeply grateful to Robyn Rontal for her willingness to serve as interim director of CHRT, maintaining CHRT's mission, vision, and values during this transition," says Denton. "Her steady leadership has kept CHRT on course while improving its fiscal and operational position in important ways."
CHRT's 2021 impact report highlights the organization's local, state, and national work to inspire evidence-informed policies and practices that improve the health of people and communities.