Project Manager Marissa Rurka discusses physician food interventions
October 6, 2022 | In The Media, WJR Radio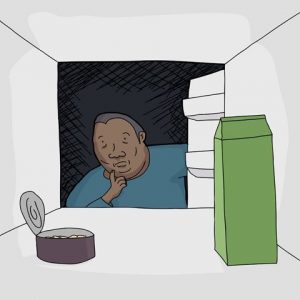 Marissa Rurka, a project manager on CHRT's research and evaluation team, joined Phil Knight, executive director of the Food Bank Council of Michigan, and Gerry Brisson, president and CEO of  the Gleaners Community Food Bank, for a conversation about how Michigan physicians screen patients for food insecurity, and what happens next. The Food First Michigan podcast (episode 91) is available online.
During CHRT's most recent statewide survey of Michigan Physicians, Rurka and other members of CHRT's research and evaluation team learned that about half of Michigan physicians do not routinely screen patients for food insecurity, and about 40 percent don't know where to refer patients to meet their food needs. Their findings are published in Physicians screen patients for social needs: what happens next? Survey, analysis, and policy recommendations.
"I think traditionally, there's this tendency to think about how we can intervene at the physician level," Rurka told Food First listeners. "What trainings can we bring to physicians? How do we convince physicians to screen more patients?
But there's this whole other component of that gap, which is, do community-based organizations like food banks have the resources not only to support the patients that are being referred to them, but also to provide closed loop referrals to the health exchange platforms."
"If we want people to use food—which is fairly inexpensive and very accessible—to help manage their chronic conditions, we've got to connect the screening and the referral and the fulfillment of that referral wherever that person goes to get food," said Brisson, who says that California, Massachusetts, North Carolina, and Oregon have all developed closed loop systems to report back to physicians and health care professionals on the status of referrals.
In Michigan, Brisson and Knight explained, they are expanding an existing 1-800 helpline for physicians to call when they encounter patients with food insecurity.
"So when you talk about 40 percent of the physicians don't know where to refer someone for food, they're going to have that 1-800 number. They're going to come to us. We're going to find out where they live and what programs they qualify for. And then if they live in one of the five counties that Gleaners serves, we'll contact Gleaners, they'll put the box together, and in our perfect scenario, DoorDash will come and pick that box up and deliver it to the patient's home."
Rurka, who points out that physicians want to help patients in this way, but have a lot of time pressures, said the 1-800 line sounds like a good solution. The easier you can make it for physicians and health care teams, she said, the better it will be.