COVID-19 has transformed health and behavioral health care delivery through telehealth, but does everyone have access?
May 8, 2020 | CHRT News, Webinar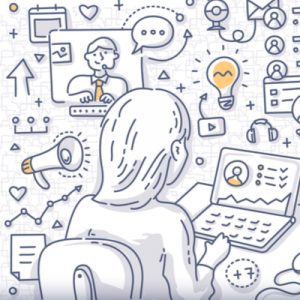 In this 25-minute webinar by Karin Teske, a senior analyst for research and evaluation at the Center for Health and Research Transformation (CHRT), viewers will learn about the rapid advance of telehealth in the midst of the COVID-19 pandemic.
Teske shares telehealth use and uptake data from before the COVID-19 pandemic, and offers a glimpse of what's changed since March 2020. She reviews new policies governing the provision of telehealth for national Medicaid clients and Michigan Medicare and commercial plan clients. She also describes who has been left out of the telehealth transformation, and what we can do to address that.
Listen to COVID-19 transforms healthcare delivery via telehealth, but does everyone have access?, one in a series of COVID-19 webinars organized by the Michigan State University College of Osteopathic Medicine.
Note: The telehealth landscape has been rapidly evolving. For updates, please reach out to her.