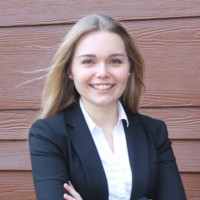 Caylin Rathburn-Smith
MiCHWA 2019 Intern
Caylin Rathburn-Smith is a master's student at the University of Michigan, pursuing dual degrees in social work and public health. She spent her undergraduate career at Michigan State University, where she received her bachelor's degree in social work, with a minor in bioethics.
Caylin is largely interested in chronic disease management, health literacy, and rare diseases. Her past work has given her the opportunity to explore existing community-wide healthcare initiatives that increase healthcare access for specific populations. Currently, she is an MSW intern for the Michigan Department of Health and Human Services Child and Adolescent Health Center Program, where she works to sustain school-based health centers throughout the state.
During her undergraduate career, Caylin was the community health intern for Michigan State University's Office for International Students and Scholars, where she helped the international community navigate the U.S. healthcare system.