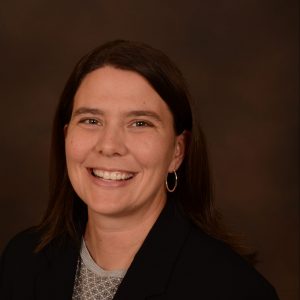 Dr. Amy Thompson
Director of ambulatory clinical pharmacy practices , University of Michigan Medical Group
Dr. Amy Thompson is the director of ambulatory clinical pharmacy practices at the University of Michigan Medical Group and associate chair and clinical associate professor of the Department of Clinical Pharmacy at the University of Michigan College of Pharmacy. With expertise in clinical practice development across ambulatory care, she has been involved in the evaluation of ambulatory pharmacy practice in multiple fields including primary care and specialty clinics. Currently, she is actively working with leaders from the University of Michigan, Ferris State, and Wayne State College of Pharmacy to advance the practice of pharmacy state-wide. She practices in general medicine, where she provides chronic disease state management for her patients. 
Thompson has expanded the collaborative practice agreements that pharmacists use to provide patient care in the ambulatory care space. During the COVID-19 pandemic, she contributed to the development of Governor Whitmer's executive order number 2020-30, which allowed pharmacists to support patient care without the required delegation of authority from Article 15 of the Public Health Code, 1978 PA 368. This executive order allowed pharmacists to provide chronic disease management if needed, allowing patients easier access to vital care.
Thompson's research includes multiple projects assessing the effectiveness of clinical services and protocols on patient safety and clinical outcomes. Transitions of care is an area of passion for her, focusing not only on the transition from inpatient to outpatient but also the transitions within the ambulatory space. 
After receiving a doctorate in pharmacy from the Medical University of South Carolina, Thompson completed a pharmacy practice residency and a primary care residency with an emphasis on family medicine at the same institution.