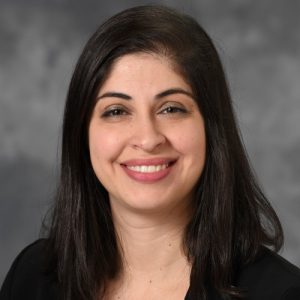 CHRT Teams
Health and social equity
Janan S. Landsiedel
Senior Project Manager
Janan S. Landsiedel is a senior project manager supporting the objectives of the health and social equity team. She is the project manager for the Promotion of Health Equity initiative partnering with regional health organizations, Michigan Medicine and its Collaborative Quality Initiative, and the Michigan Department of Health and Human Services.
Prior to joining CHRT, Saba Landsiedel supported quality improvement initiatives at Henry Ford Health, such as:
A continuous quality improvement project for an antimicrobial stewardship infectious disease team,
A pursuing equity initiative partnership with the Institute of Healthcare Improvement and six other health systems nationwide
A standardized electronic note system for infectious diseases team patients
A series of equity and quality improvement projects throughout Henry Ford Health, and
A partnership between Henry Ford Health, a Detroit-based startup SPLT, and the ride-hailing company Lyft.
Saba Landsiedel has been a committed advocate for the American Heart Association since 2009, serving as chair of the Michigan State Advocacy Committee for the American Heart Association. She holds a Master of Public Health with a concentration in global health from George Washington University in Washington, D.C., a bachelor's degree in psychology from Albion College, and a professional certificate in project management.
""Working in community health and health care, one thing that is clear to me and connected to the work we do presently is the importance of health equity to the success of the communities and populations we serve. Equity will lead to better quality of life for all." -Landsiedel"