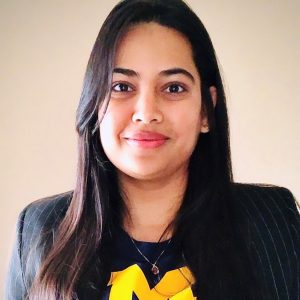 Education
MPA, Wayne State University
Poonam Yadav
Research and Evaluation Analyst
Poonam Yadav is a member of CHRT's research and evaluation team with responsibilities for the Law Enforcement Assisted Diversion and Deflection (LEADD) program evaluation, Michigan Physicians Survey development and analysis, and the Promotion of Health Equity project.
Prior to joining CHRT, Yadav was with the Center for Behavioral Health and Justice at Wayne State University. She has more than four years of experience in research and quantitative data analysis, focusing on identifying, supporting, and diverting individuals with mental health and substance use addiction out of the criminal justice system. Her findings have informed evidence-based policy decisions by jail administrators and staff, as well as community mental health and public safety agencies.
From 2019 to 2021, Yadav worked on a sequential intercept model, identifying six different intervention points within the criminal justice system to divert inmates with serious mental illness to proper community-based services. During that time, she was also a Michigan Municipal Executive (MME) Fellow (2019-2020).
Yadav earned her master's in public administration from Wayne State University, and is certified in data science (IBM), survey data collection and analysis (University of Maryland), and opioid crisis prevention, education, and practice for non-prescribing providers (University of Michigan).