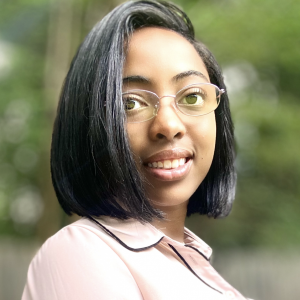 CHRT Teams
Integration
Mental health and substance use
Research and evaluation
Education
BS, Michigan State University.
MPH, Rollins School of Public Health Emory University
Sheritha Rayford
Program Manager
Sheritha Rayford is a program manager on the research and evaluation team. She is from Detroit, MI and attended Martin Luther King High School, located on the Eastside of Detroit. She graduated from Michigan State University in the fall of 2019 with a Bachelor of Science in Interdisciplinary Studies focused on Health & Society. Sheritha recently graduated with her Master's degree from Rollins School of Public Health at Emory University. She has worked globally and locally with various non-profit organizations throughout her educational journey.  While at Rollins, she participated in various public health research projects in areas of global nutritional programs, how the pandemic affected working parents in Georgia, and health communication.
She is enthusiastic about raising awareness of how social determinants of health impact marginalized and underserved minority populations and what she can offer to the field of public health.
Outside work, she enjoys spending time with friends and family, doing anything active, and reading a good book.