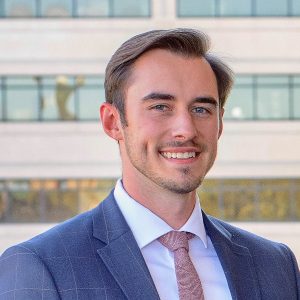 Taylor Lawrence
Legislative director , State Representative Alabas Farhat
Taylor Lawrence is the legislative director for State Representative Alabas Farhat, who is a member of the Health Policy Committee and Appropriations Subcommittee on Health and Human Services. He conducts research, monitors legislation, and testifies before committees. He is also a 2023 fellow for the Henry Marsh Institute for Public Policy.
Taylor previously served as legislative director to former State Representative Kyra Harris Bolden. He led the effort to secure key state budget appropriations for local governments from the American Rescue Plan. He has managed a targeted State House campaign, and worked in multiple roles for State Senator Jeremy Moss and Congressman Dan Kildee. 
Lawrence has worked on multiple pieces of legislation and appropriations requests pertaining to the healthcare sector in Michigan. He was a 2022 fellow for the Michigan Political Leadership Program (MPLP) and a graduate of the Great Lakes Political Academy (GLPA). Lawrence cares deeply about both healthcare policy and energy policy, and plans to use the CHRT Health Policy Fellowship to grow professionally by learning from healthcare experts.
Taylor earned his bachelor's degree in political science from Eastern Michigan University in 2020.