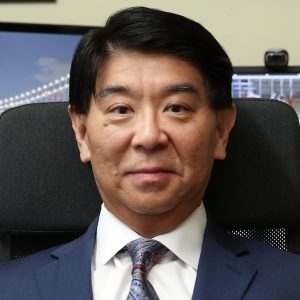 Toshiki Masaki
Past Chair , Michigan Asian and Pacific American Affairs Commission
Toshiki Masaki retired at the end of 2018 from the Ford Motor Company where he worked since 1988. Masaki held a variety of positions at Ford, including in vehicle engineering, finance, global data insights and analytics, government and community relations, and purchasing. His last position was manager in global data insights and analytics, where he was charged with establishing infrastructure for a new department to implement global priorities for the company's one-on-one marketing strategy across all digital media. Previously, Masaki was senior manager in government relations, where his responsibilities included the Ford Political Action Committee, the business plan review, public policy and economic impact analyses, and management of Ford's global career development and training program in government relations.
Masaki served on Michigan's Asian and Pacific American Affairs Commission from 2013 to 2020. He was originally appointed by Governor Snyder, then appointed chair by Governor Whitmer for 2020.  The commission is charged with advising the Governor and the State Legislatures on issues concerning Asia and Pacific Americans in the state and serving Asian and Pacific American communities to inform them of state resources available to all Michigan residents. From 2006 through 2012, Masaki was the vice chair of the Michigan Health Care Information Technology Commission, appointed by Governor Granholm.
Masaki was one of ten members of the 2015 Japanese American Leadership Delegation, an annual program sponsored by Japanese Ministry of Foreign Affairs to advance US-Japan relations by leveraging the talent of Japanese Americans.
He is a member of the National Board and governor of the Midwest District of the Japanese American Citizens League. Established in 1929, the league is the oldest Asian American civil rights organization, consisting of just under 8,000 members throughout the U.S.  Its Midwest District consists of ten chapters located in nine states.
Toshiki was born in Osaka, Japan and has been living in the United States since 1979.  He holds a bachelor's degree in mechanical engineering from the Massachusetts Institute of Technology, a master's degree in mechanical engineering from the University of California, Berkeley, and an MBA from the University of Michigan, Ann Arbor.