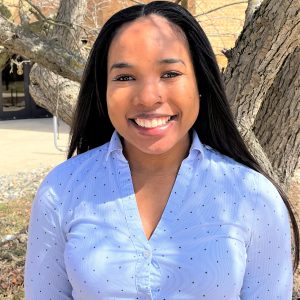 Tracy Moss
Health Communications Analyst
Tracy Moss is a health communications analyst for the Center for Health and Research Transformation (CHRT), based in Washtenaw County, where she supports the communications team with data visualization, storytelling, and health education. Moss has interests in violence prevention in marginalized communities, mental health and substance abuse, disease prevention, and decreasing infant mortality rates among African Americans in Michigan.
Before joining CHRT, Moss served as a health educator for the Centers for Disease Control during the COVID-19 pandemic. She provided research, writing, and data visualization support to four public health departments in the Upper Peninsula serving Luce, Mackinac, Alger, and Schoolcraft counties. 
Moss earned her master's degree at Eastern Michigan University, concentrating on higher education and student affairs and her bachelor's degree in social work from Eastern Michigan University. During her undergraduate career, Moss worked as an advocate for Catholic Social Services of Washtenaw County's prisoner reentry program. At CSS, Moss implemented a system for offenders to re-enter the community successfully through housing, resources, and outreach.
Moss is a Certified Health Education Specialist, nationally certified in eight competencies: assessing community needs, resources, and capacity; planning; implementation; health evaluation; research; advocacy; leadership and management; and communication.