Riba and Adams op-ed: Four ways Michigan providers can prepare to serve aging veterans
December 15, 2020 | In The Media, Lansing State Journal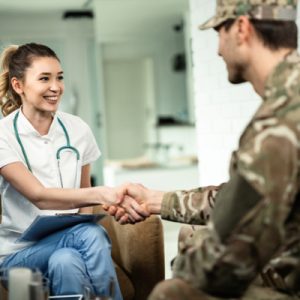 The COVID-19 pandemic has raised awareness of the need for aging veterans' healthcare. The situation has become more serious as many aging veterans have put off getting medical and mental health treatment because of the pandemic. A recent assessment was conducted to determine the number of health and mental healthcare specialists in Michigan who are qualified to offer the veterans of the state high-quality, competent care.
In a Lansing State Journal op-ed, CHRT Research and Evaluation Director Melissa Riba, and VA Ann Arbor health physician Dr. Megan Adams, share findings from a recent analysis of the readiness and capacity of Michigan's primary and specialty care providers to serve and provide high-quality care to, the state's aging veterans.
Based on the assessment, Riba and Adams also offer four recommendations for Michigan health and mental health care providers, payers, and systems–recommendations that may be of interest to other states–that wish to improve community-based health care for aging veterans:
Screen all patients for veteran status,

Learn about the specific health needs of veterans,

Explore veteran and military culture, and

A better understanding of the resources and services covered and offered by the Veterans Health Administration.
By following these recommendations, healthcare organizations and systems can contribute to aging veterans' quality of life improvements and give them the care and assistance they require to age with respect and dignity.