Ten years, 122 health policy fellows
November 17, 2022 | CHRT News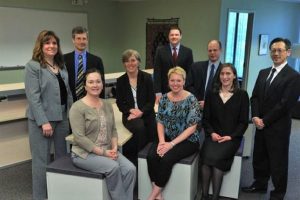 In 2012, the Center for Health and Research Transformation (CHRT) launched its first-ever health policy fellowship. Since then, CHRT has welcomed ten fellowship classes of 10-15 fellows per year for a four-month program designed to teach them about health research, policy, and practice.
Fellows bring expertise from their careers in policy, research, and nonprofit management. In the program, policymakers gain a deeper understanding of pressing health issues of the day. Researchers learn effective ways to share their work in the policy space. And nonprofit fellows learn about policy and research, while bringing their own real-world perspectives to the table. 
The fellows travel to Detroit, Lansing, and Washington, DC to meet local, state and national elected officials and to better understand the intricate workings of health policy. In addition, research fellows develop op-eds, one-pagers, and other deliverables, getting real-time feedback from health policy experts and nonprofit leaders. 
Fellows also attend small group discussions and seminar-style presentations covering:
the history of health insurance and reforms, including the Affordable Care Act, including what they've made possible and the challenges that remain,
lessons in effective policy advocacy for researchers who hope to inform policymakers and practitioners for real-world impact,
health spending trends and implications, including prescription drug and insurance pricing,
provider and health plan efforts to maximize quality, eliminate inequities, and minimize costs, some of the biggest challenges of our time,
key policy issue updates with some of the top health legislators and influencers in Detroit, Lansing, and DC,
media engagement strategies, including meetings with some of the top media experts and training on how to write op-eds and one-pagers from experts in the field,
health policy perspectives of small and large businesses—key purchasers of health care insurance, and
introductions to cutting-edge clinical research and timely health policy issues in Michigan and across the nation.
In addition, fellows meet with a growing network of over one hundred fellowship alumni including:
Policymakers like Elizabeth Hertel, director of the Michigan Department of Health and Human Services (2012), Shaquila Myers, chief of staff for Lieutenant Governor Garlin Gilchrist and senior advisor to Governor Gretchen Whitmer (2017), and Renée Smiddy, director of policy at the Michigan Health and Hospital Association (2016).
Researchers like Dr. Michelle Moniz, obstetrician-gynecologist at the University of Michigan Medical School (2018); Dr. Mark Peterson, physical medicine and rehabilitation specialist at the University of Michigan Medical School (2019), and Dr. Renu Tipirneni, internal medicine practitioner and Healthy Michigan Plan evaluator at the University of Michigan Medical School (2018).
Nonprofit leaders like Kristie King, association executive at the Southeast Michigan Senior Regional Collaborative (2022), Elise Bur, director of the Northern Michigan Center for Rural Health (2022), and Kimberly Motter, director of quality and training at Reliance Community Care Partners (2022).
Over the last ten years, CHRT fellows have met dozens of state senate and house majority and minority leaders like Abdullah Hammoud (D) and Mike Shirkey (R), and health policy committee leaders, including Jim Ananich (D) and Mary White (R).
"The CHRT Fellowship enhanced my ability to think about policy—from the formulation of the research questions to the translation of the research findings to inform policy in real-time," says Renu Tipirneni, who graduated from the program in 2018.
Nancy Baum, director of health policy at CHRT, says "there are policymakers in the room with a wealth of knowledge who really know the ins and outs of the policy system. And if you're a policymaker in Lansing, and you've got a piece of legislation you're analyzing, it's really great to be able to say 'I know an expert in this field.'"
CHRT helps facilitate relationships well beyond the four-month program. A couple of times each year, fellowship alumni from all cohorts are invited to attend sessions covering hot policy topics–our most recent session was attended by more than two-dozen alumni. And over ten years, the program's connective tissue has been extended, allowing participants to build relationships with professionals from outside their areas of expertise.
Thank you to our most recent fellowship sponsors: Michigan Medicine, Blue Cross Blue Shield of Michigan, Michigan State Medical Society, and the Michigan Health Endowment Fund. And thank you to our partners, Kim Ross, Chief Government Relations Officer, Michigan Medicine; Kris Kangas-Kraft, Director of State Relations, Blue Cross Blue Shield of Michigan; and Eileen Kostanecki, Director of Policy Engagement and External Relations, University of Michigan Institute for Healthcare Policy and Innovation.