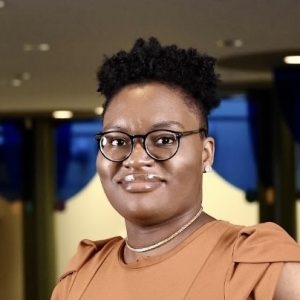 CHRT Teams
Research and evaluation
Education
BS, University of West Georgia
MPH, University of Michigan
MSW, University of Michigan
Jadrienne Horton
Program Manager
Jadrienne Horton is a program manager on the research and evaluation team. She began working with CHRT as an intern through the American Evaluation Association's 2022-2023 Graduate Education Diversity Internship program. As an intern, Jadrienne supported the research and evaluation team with the Washtenaw County's Law Enforcement Assisted Diversion and Deflection (LEADD) program. One of her primary responsibilities was to understand and apply culturally responsive evaluation practices to the LEADD project.
Jadrienne graduated with a dual Master of Public Health and Master of Social Work from the University of Michigan. Her public health concentration was Health Behavior and Health Education and Program Evaluation was her social work pathway. She has worked locally, nationally and internationally with various non-profit organizations throughout her educational journey on various evaluation projects. She has supported non-profit organizations with developing metrics to evaluate their performance such as, designing surveys, facilitating focus groups and key informant interviews. She has also provided support by conducting literature reviews and enhancing organizational logic models. Jadrienne enjoys working with all invested parties on a project, especially community members and patrons whose voices are typically not heard or silenced.
Her interests include working with marginalized racial and ethnic minority groups and underserved populations to raise awareness about environmental, healthcare and social injustices impacting these communities. She is also passionate about moving beyond traditional approaches of research and evaluation that disregard culture and linguistic differences. Jadrienne considers herself an innovative and strategic thinker and change maker.