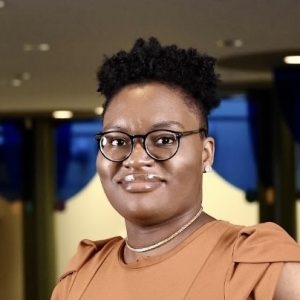 CHRT Teams
Research and evaluation
Education
BS, University of West Georgia
Jadrienne Horton
Graduate Education Diversity Intern
Jadrienne Horton is a dual Master of Public Health and Master of Social Work candidate (2023) at the University of Michigan. She is in the Health Behavior and Health Education Department in the School of Public Health and on the Program Evaluation and Applied Research track in the School of Social Work.
She has interests in working with marginalized racial and ethnic minority groups and underserved populations to raise awareness about environmental and social injustices impacting their communities. She is also passionate about incorporating race equity into evaluation and research practices. Jadrienne is joining CHRT as an intern through the American Evaluation Association's 2022-2023 Graduate Education Diversity Internship program.
At CHRT, Jadrienne will be supporting the research and evaluation team with the Washtenaw County's Law Enforcement Assisted Diversion and Deflection (LEADD) program. In 2017, Jadrienne obtained her bachelor's degree in Health and Community Wellness and a minor in social services from the University of West Georgia.