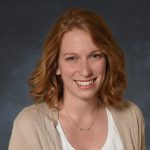 Samantha Iovan is a senior analyst at CHRT and will be supporting the Washtenaw Health Initiative UNITE Group and Medicaid and Marketplace Outreach and Enrollment (MMOE) Group.
Prior to joining CHRT, Samantha worked as a project manager in the Department of Emergency Medicine at the University of Michigan. There, she oversaw health services research projects focused on addressing cardiac arrest outcomes in the state of Michigan and improving care coordination and patient-centered care.
Before joining Michigan Medicine, Samantha managed multiple population health policy projects at the University of Michigan Ford School of Public Policy. She led data collection and analysis efforts to understand Pay for Success (PFS) financing models and interventions to address superutilizers of acute care.
Samantha holds a master's degree in public health from Wayne State University and a bachelor's degree in philosophy from the University of Michigan.