Center for Health and Research Transformation names Terrisca Des Jardins as incoming executive director
September 10, 2020 | CHRT News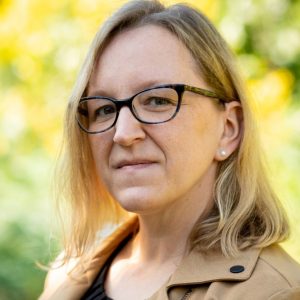 Terrisca Des Jardins, MHSA, currently the chief operating officer for the Physician Organization of Michigan ACO (POM ACO), has been selected to become the next executive director of the Center for Health and Research Transformation (CHRT), an independent nonprofit at the University of Michigan. Marianne Udow-Phillips, the founding executive director of CHRT, will retire at the end of the calendar year, allowing for seamless transition planning as Des Jardins will begin her appointment on October 1st.
"Des Jardins is an accomplished health administrator–one who has worked with teams to produce very positive results for the organizations she has served–and has proven leadership in building coalitions and improving health outcomes," says Tony Denton, CHRT board chair and senior vice president and chief operating officer of the University of Michigan Health System – Michigan Medicine.
"Des Jardins brings significant expertise in collaborating with diverse stakeholders to meet common objectives while improving outcomes for underserved populations, government and nonprofit entities, and communities," says Denton. "The Board of Directors and I believe that her leadership, collaborative approach to solving complex issues, creative spirit, and cross-disciplinary experience are important traits that will help advance CHRT's legacy of providing evidence-based information to inform health policies and trends that improve population health across communities."
As chief operating officer of POM ACO, an accountable care organization with 4,500 Michigan providers who participate in the Medicare Shared Savings Program, Terrisca Des Jardins' efforts have helped achieve tens of millions of dollars in savings for the federal government, taxpayers, and the ACO, while improving the quality of care for Medicare enrollees.
Des Jardins also developed and implemented nationally-recognized engagement opportunities at POM ACO, establishing an advisory committee of Michigan Medicare beneficiaries who provided input to the U.S. Centers for Medicare and Medicaid services on a number of policy and operational concerns, including how to tackle social isolation and loneliness in the Medicare population.
"I've always been an admirer of CHRT's policy work, research, and innovative demonstration projects and the holistic way CHRT works to advance the health of communities," says Des Jardins. "I look forward to building on that legacy through cross-disciplinary and cross-stakeholder collaborations, and finding the best ways to do that in these challenging times."
Marianne Udow-Phillips served as director of Michigan's Department of Human Services under the Granholm Administration and as a senior executive at Blue Cross Blue Shield of Michigan for over 20 years before becoming the founding executive director of CHRT in 2007. She will continue to serve as an advisor to CHRT and support the success of a number of current projects after she retires from the executive director role at the end of December.
"We are deeply grateful to Marianne, as she has led the implementation of CHRT's mission, vision and values, leading to sustained success," says Denton. "Her leadership and vision to advance non-partisan, evidence-based policy and assure access to care for all, improve population health, and advance social justice have had an enormous impact in Michigan and beyond."
CHRT's 2019 impact report highlights the organization's local, state, and national work to inspire evidence-informed policies and practices that improve the health of people and communities.
Also see CHRT's impact report for the Washtenaw Health Initiative (WHI), a voluntary collaborative sponsored by Michigan Medicine and the St. Joseph Mercy Health System to improve health, health equity, and health care for Washtenaw County residents, with a special focus on the county's low-income, uninsured, and underinsured populations.