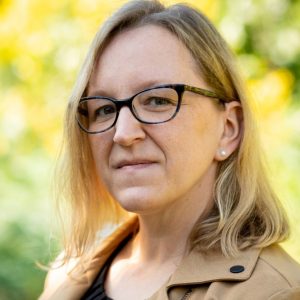 CHRT Teams
Health and human services
Integration
Mental health and substance use
External Affiliations
Lecturer, Health Care Administration, University of Michigan School of Public Health
Education
MHSA, University of Michigan
Terrisca Des Jardins
Executive Director
Terrisca Des Jardins is a seasoned, award-winning, and nationally recognized executive, with nearly 30 years of experience in health care. She has served non-profits, for-profits, government and philanthropic entities, as well as payers, purchasers, providers, consumers, universities, and cross-sector partnerships, among others. As a strategic and compassionate leader, she advances organizations, innovative initiatives, and scalable programs to better individual, community, and population health.
Des Jardins is currently executive director of the Center for Health and Research Transformation (CHRT) at the University of Michigan. She leads CHRT's vision, strategy, advancement, and operations. However, she will transition to a new role as Michigan Plan President for Molina Healthcare on March 6, 2023.
Over the last six and a half years at the University of Michigan, Terrisca has held a number of leadership roles as:
Chief operating officer of the Physician Organization of Michigan Accountable Care Organization (POM ACO), a Medicare Shared Savings Program ACO with 4,500 Michigan providers and 50,000 Medicare enrollees, where she facilitated a comprehensive organizational overhaul and strategic planning process; launched the ACO's learning health system and nationally-recognized Medicare enrollee advisory committee; helped to save tens of millions of dollars for the federal government, taxpayers, and the ACO; and elevated the organization to one of the best performing (across all measures, financial, quality, and otherwise) ACOs in the country (2017-2019).
Faculty member at the University of Michigan School of Public Health (2018 – present).
Executive director of the Center for Health and Research Transformation (CHRT), where she has realized very significant financial and organizational growth, leading to enhanced reach and impact in policy and practice and expanded portfolios at the local, regional, state, national and international levels (2020-2023).
In October of 2022, Des Jardins was selected to join a CMS Technical Expert Panel that will help the agency develop better electronic clinical quality measures for addressing social needs. This work began in November of 2022, and will continue until the spring of 2024. And early in 2021, Terrisca led work to develop a CMS Medicaid match proposal to launch the Promotion of Health Equity Initiative with participating regions across the State of Michigan. In late 2021 through 2022, Terrisca served as one of two core national faculty for the Boston-based, Institute for Healthcare Improvement, advising and guiding participating integrated delivery networks in the National Learning Action Network, Addressing Social Needs in Chronic and Preventive Disease.
As director of the Southeast Michigan Beacon Community initiative from 2011–2013, Des Jardins led a series of pilot studies—funded by the U.S. Department of Health and Human Services—to advance population health and diminish health and health care disparities by addressing the social determinants of health, incorporating community health workers into care teams, leveraging health information technologies, and recommending other strategies.
Des Jardins has also held significant leadership positions with United Physicians, Ingenium, the Greater Detroit Area Health Council, the Southeast Michigan Partners Project, and Health Management Associates (HMA). While at HMA she worked with Molina Healthcare to establish plan operations and secure their first contract with the State of Michigan.
Her contributions have been recognized by the United States Surgeon General, the National Kidney Foundation, the National Partnership for Immunization, the Michigan Health Information Technology Commission, and Crain's Detroit Business (40 under 40 and Notable Women in Health Care 2020).
Des Jardins received a master's degree in health services administration from the University of Michigan School of Public Health.
"The health of individuals and the community should be at the center of decisions made by health care leaders and policymakers."