Congratulations to CHRT's Carrie Rheingans, selected as one of Crain's Detroit's Notable Women in Health Care
June 18, 2018 | Press Releases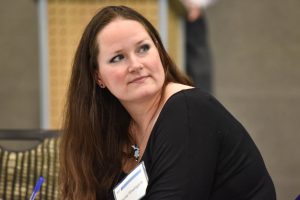 Carrie Rheingans, project manager at the Center for Healthcare Research and Transformation (CHRT), is recognized in Crain's Detroit Business's inaugural list of Notable Women in Health Care.
At CHRT, Carrie manages the Washtenaw Health Initiative (WHI), a regional health coalition focused on improving access to coordinated care for low-income, uninsured, and Medicaid populations. In addition, she manages a number of community implementation activities for the State Innovation Model and the Michigan Community Health Worker Alliance.
Carrie's nomination for recognition by Crain's emphasized her work with Communities Joined in Action, a national membership organization of community coalitions working to improve health, as well as Carrie's role as a member of the Blue Cross Blue Shield of Michigan Foundation's Healthy Safety Net Symposium Planning Committee, where she highlighted the need for cross-sector coalitions to help address the opioid epidemic.
"Carrie's optimism and energy help foster collaboration in community health," writes Crain's. "As the first manager of a countywide health coalition, she has helped grow the Washtenaw Health Initiative from 45 individual members and 20 member organizations to 200 individual members and 50 organizations."
Crain's also highlights Carrie's role overseeing the WHI's Opioid Project, "a coalition working with the health department, sheriff's department, and a substance abuse agency to address prevention, early intervention, treatment and harm reduction related to the opioid epidemic."
"Carrie is passionate about her work and about her community, and this shows every day," says Nancy Baum, policy director at CHRT. "She is clearly committed to improving the health of all individuals in our community."
Carrie is a graduate of the U-M School of Public Health and the U-M School of Social Work. She serves as an adjunct lecturer in the School of Social Work.