Terrisca Des Jardins, CHRT's executive director, joins the advisory board of the University of Michigan Griffith Leadership Center 
May 17, 2022 | CHRT News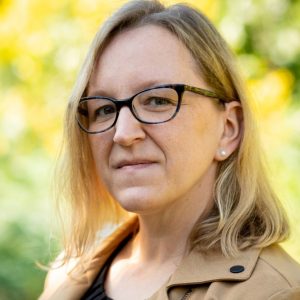 Terrisca Des Jardins, CHRT's executive director, has been tapped to join GLC's Advisory Board. Des Jardins says she looks forward to strengthening collaborations and synergies between the two centers.
CHRT and the University of Michigan Griffith Leadership Center (GLC) share many interests. While CHRT improves public health by providing health and health care research, data analyses, and backbone support to government agencies, community decision leaders, and nonprofits, GLC does so by promoting and supporting future health management and policy leaders.
"There are very interesting opportunities for enhanced connection and partnership with GLC across many of CHRT's active projects and work portfolios," says Des Jardins, "including CHRT's learning forums, networks, and policy and public health fellowships."
At GLC, Des Jardins will also contribute her experience and vision for training and supporting health care leaders.
"As I have participated across research, teaching, and practice, I understand and appreciate the need to connect these areas to prepare great leaders, particularly in these quickly changing and challenging times in health care," she says.
The GLC recognizes that it achieves its mission through the shared energy, intelligence, and enthusiasm of its advisory board, whose members are recognized health management and policy leaders. Des Jardins is thrilled to join this distinguished board and looks forward to "digging in and contributing creative energy and time to the work."
GLC is located at the University of Michigan School of Public Health and housed within the Department of Health Management and Policy (HMP).