MiCC, Regional Health Collaboratives work to improve Michigan's behavioral healthcare
August 1, 2023 | In The Media, MI Mental Health, Second Wave Media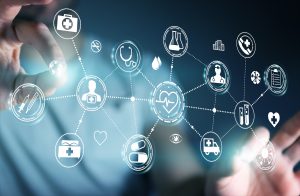 The Promotion of Health Equity Project engages six Regional Health Collaboratives — care coordination programs designed to improve a region's wellbeing – to address health-related social needs and establish a framework for statewide expansion. 
A recent MI Mental Health Series article by Estelle Slootmaker, "Regional Health Collaboratives improving access to behavioral health services," discusses the goals of these six collaboratives and specifically highlights MI Community Care (MiCC), the collaborative serving Livingston and Washtenaw Counties. 
CHRT provides the administrative backbone for MiCC, and is also evaluating the progress of all six collaboratives. The article interviews two CHRT staff members: Ayşe Büyüktür, MiCC program manager, and Jonathan Tsao, senior project manager on CHRT's research and evaluation team. 
While the Regional Health Collaboratives help patients with a wide range of health and social needs — including housing, medication management, transportation to and from medical appointments, and food security — one of the collaboratives' key objectives is to improve access to behavioral health care. To do so, each collaborative works with local partners to make behavioral health referrals.
Behavioral health is still stigmatized, Büyüktür says: "Not everyone is comfortable asking for help or knows how to access services … If someone is struggling with behavioral health needs, expecting them to navigate complex systems of care … places extra burden on them."
"Most of the residents who come to their region's programs have complex medical, behavioral health, and social needs," says Tsao. "[Regional Health Collaborative] programs are designed to address all of those needs through care coordination."
MiCC partners with Washtenaw County Community Mental Health (WCCMH) and Livingston County Community Mental Health.
To coordinate behavioral health care for a MiCC participant, the lead care coordinator arranges care and resources for patients, and community health workers (CHWs) and peer support specialists help patients access these resources. 
CHWs and peer support specialists "meet participants where they are," says Buyuktur. "They see their living situations. They have the expertise to recognize needs and problems … They are incredibly knowledgeable about community resources. And because they build strong, trusted working relationships with community members based on those individuals' personal goals, they help to de-stigmatize behavioral health at the individual level."