Shortage of medical supplies for addressing COVID-19 is a challenge. Marianne Udow-Phillips explains.
March 13, 2020 | CGTN, In The Media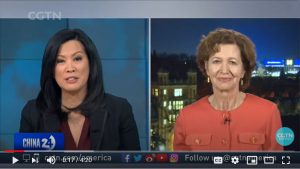 In an interview with China Global Television Network anchor Elaine Reyes, Marianne Udow-Phillips, founding executive director of the Center for Health and Research Transformation at the University of Michigan, spoke to the challenges faced by hospitals and caregivers and the importance of managing the supply of medical equipment and drugs to treat COVID-19.
"Much of the focus is on mitigation because there is not really enough equipment here if we have a major spike in need," said Udow-Phillips, as she discussed the emphasis on increasing the availability of testing and its importance in helping to anticipate potential surges in hospital utilization.
"The drug supply issue is another matter that is really of great concern here as well," noted Udow-Phillips, who then went on to respond to questions about the availability of medical supplies and managing equipment challenges in rural hospitals.
–Summary by Benjamin Kohrman