Use local doctors to promote mask use says Marianne Udow-Phillips in WLNS interview with Tim Skubick
July 22, 2020 | In The Media, WLNS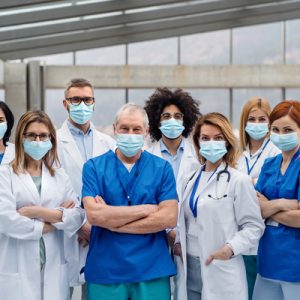 Gov. Gretchen Whitmer is being advised by the former director of the state welfare department to use someone else to promote the mask use, instead of choosing sports icons.
Tim Skubick of WLNS interviewed Marianne Udow-Phillips, founding executive director of the Center for Health and Research Transformation (CHRT), for a segment about the recently released mask pitch by Michigan-based sports coaches.
"It was quite a coup for the [Michigan] governor to sign up well-known sports personalities like Michigan State University basketball coaches Tom Izzo and Suzy Merchant to encourage the use of masks," said Skubick. "If it was up to Marianne Udow-Phillips, the former state welfare director during the Granholm administration, she would advise the governor to use local doctors."
Skubick is referring to a recent study done by CHRT and the University of Michigan Department of Learning Health Sciences, which discovered that the people Michiganders trust most for COVID-19 information are their local doctors.
"I think that would be a great idea," says Dr. Marianne Udow-Phillips. "I think if people heard from their own personal physicians, people they know and trust, that they have confidence in, that these health care persons would save lives and it would have a huge impact."