Welcoming four new team members
February 3, 2023 | CHRT News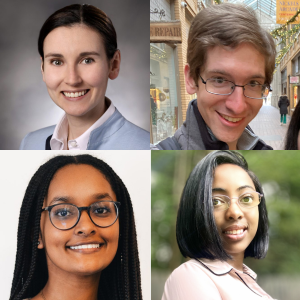 Since our last newsletter, CHRT has welcomed four new team members. 
William Bishop
William Bishop is a community initiatives intern at CHRT. Bishop supports the data analytics team at CHRT, including work on the Washtenaw Health Initiative and Healthy Aging at Home Network (HAHN). Bishop is an MSW candidate at the University of Michigan School of Social Work with an emphasis on policy and political social work. Prior to his graduate studies, Bishop obtained a BS in psychology at Eastern Michigan University. Bishop has volunteered with AmeriCorps, and through FEMA and other non-profits, has helped organize relief efforts for disaster survivors across the country. 
Jennifer Black
Jennifer Black is a project coordinator at CHRT. She supports CHRT's ongoing work to build a community-integrated health network which will provide services addressing health-related social needs to Michigan communities. Black provides project management and business planning support. Prior to joining CHRT, Black spent a decade working for hospitals, academic medical centers, health systems, research institutions, long-term care providers, health care providers, research consortiums, and nonprofit organizations on a wide range of regulatory, strategic, and transactional projects. She has extensive experience working with local, state, and federal agencies in grants and contracting, and in matters of governance and administration.
Dana Elobaid
Dana Elobaid is a communications intern at CHRT. Elobaid is a sophomore at the University of Michigan, studying Philosophy, Politics, and Economics, with a minor in Quantitative Methods. She works with the communications team to assist CHRT's public sector clients by promoting services and community resources. Elobaid is interested in healthcare policy, expansion of accessible mental health services, prevention-based approaches in schools, as well as housing policy and urban planning. Outside of CHRT, Elobaid is copy chief for the Michigan Daily, as well as an American politics editor for the Michigan Journal of Political Science.
Sheritha Rayford
Sheritha Rayford is a program manager on CHRT's research and evaluation team. Rayford recently graduated with her master's degree from the Rollins School of Public Health at Emory University. She has worked globally and locally with various non-profit organizations. While at Rollins, Rayford participated in various public health research projects in the areas of global nutritional programs, how the pandemic affected working parents in Georgia, and health communications. She is enthusiastic about raising awareness of how social determinants of health impact marginalized and underserved minority populations.
We want to take this opportunity to extend a warm welcome to our new team members.