Michigan physicians share perspectives on telehealth opportunities and challenges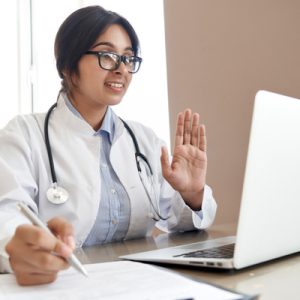 The COVID-19 pandemic led to an unprecedented expansion of telehealth in Michigan and across the United States.
This expansion was due, in large part, to a series of policy changes following the pandemic, such as increased insurance coverage for telehealth and the loosening of telehealth delivery restrictions.
These new policies allowed patients greater access to remote care to reduce exposure to the COVID-19 virus and had far reaching impacts on physicians, hospitals, health systems, and patients. However, many of these new policies were designed to expire once the COVID-19 public health emergency period ends.
With the federal public health emergency drawing to a close, policymakers and decision leaders–in Michigan and at the federal level–are discussing which telehealth policies to continue and which to abandon or alter.
The decision-making process must factor in the perspective of physicians, who have direct experience with and knowledge of telehealth delivery.
In this brief, the Center for Health and Research Transformation (CHRT) at the University of Michigan shares Michigan physician views on how telehealth has affected patient care (see details below).
At the conclusion of this brief, CHRT discusses the implications of these findings for state and federal policy, especially as it relates to the accessibility, quality, and equity of care.
Key Findings
75 percent of Michigan physicians report that they have used telehealth. Of these physicians, a third began using these services within the last year.
Regional differences in telehealth use are dramatic, with the lowest use among physicians in Michigan's Upper Peninsula (54 percent) and the highest among physicians in Southeast Michigan (85 percent).
Telehealth use varies widely by practice type. Michigan physicians employed by a Federally Qualified Health Center (FQHC) are most likely to report use of telehealth (92 percent), while those employed by Urgent Care Clinics are least likely to report use (48 percent).
Only one in every three Michigan physicians (32 percent) reports that telehealth improves the quality of health care, but most Michigan Physicians report that it improves access to care (60 percent). These findings suggest that, although telehealth may not be able to replace physical care, it can be a valuable tool to reduce gaps in health care that come from challenges with accessing care.
The two most reported challenges with the use of telehealth were technology challenges for patients (61 percent) and reimbursement for these services (51 percent).
Survey detail: The 2021 Michigan Physician Survey was fielded online to licensed physicians in Michigan from April 7, 2021 to May 11, 2021; of that group, 2,188 took the survey (8% response rate). To adjust for the low response rate, CHRT weighed the final sample by the region in which the physician practices, as well as years in practice.