Michigan's physicians and health care providers are burnt out: What can we do to help them navigate pandemic pressures?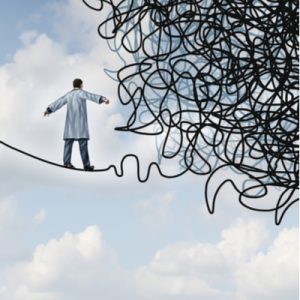 Michigan's latest COVID-19 surge is among the worst in the country, and if there's one thing we know about COVID's effect on our nation's health care system, provider burnout will soon follow.
Physician burnout is a concern for everyone. It's tied to lower-quality care, reduced clinical productivity, and increased physician turnover. In the general population, we also know that stress can negatively impact physical and mental health.
But since the first COVID-19 lockdowns in March of 2020, physicians have experienced a number of pandemic-related stressors including concerns about contracting or transmitting COVID-19, implementing rapidly changing state and federal guidelines, unstable revenue streams, and safely and securely implementing telehealth for their patients.
In this brief, the Center for Health and Research Transformation (CHRT) compares the prevalence of burnout among Michigan physicians before and during the COVID-19 pandemic. In addition, CHRT identifies which physicians are most likely to report COVID-19 related burnout.
At the conclusion of this brief, CHRT highlights potential programming to address physician burnout, including ensuring physicians have access to convenient and confidential mental health support.