Please join us in welcoming our newest team members, who bring expertise in gerontology, sociology, and user experience
April 26, 2021 | CHRT News
We're excited to welcome our newest team members –Marissa Rurka, Erin Horne, and Vinusha Devarakonda. We're happy to have them and looking forward to working with them.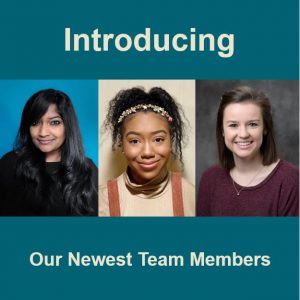 Marissa Rurka is a senior research and evaluation analyst at CHRT and a Ph.D. candidate in gerontology and sociology. Before joining CHRT, Marissa assisted with an evaluation of Minnesota's value-based reimbursement policies for nursing facilities. In particular, her role was to evaluate a measure of long-stay resident quality of life.
Prior to that, Marissa served as a research assistant and graduate project coordinator for the Within-Family Differences Study, a panel survey exploring the implications of family relationships and caregiving for health and well-being. Marissa has also interned at the Patient-Centered Outcomes Research Institute (PCORI), where she analyzed PCORI's portfolios of comparative effectiveness research studies related to advanced illness and caregiving.
At CHRT, Marissa will assist with the Cover Michigan and Michigan Physician Surveys, which collect data and perspectives from Michigan residents and primary care physicians. She will also support projects related to healthy aging, family caregiving, and social determinants of health. She has published in the Journal of Gerontology: Social Sciences and The Gerontologist.
Erin Horne is CHRT's Community Engagement Program Manager. She provides strategic support on racial health care equity and justice for the Washtenaw Health Initiative (WHI). She also works closely with Vital Seniors and the Healthy Aging Collaborative to create enduring outcomes for vulnerable elders and their caregivers in Washtenaw County, supported by data and research.
Prior to joining CHRT, Erin primarily worked in clinical psychiatric spaces. She has worked for non-profits, hospitals, and Michigan Medicine's Department of Psychiatry Sleep and Circadian Research unit. After realizing that policy and systemic flaws hindered effective treatment for clients and patients, she began to pursue macro social work and public health. Her passion lies within diversity, equity, and inclusion informed policy to advance quality healthcare delivery for oppressed identities.
Erin holds a master's degree in social work from the University of Michigan with a concentration in management in human services. She obtained her bachelor's from the University of Michigan – Dearborn in behavioral and biological Sciences.
Vinusha Devarakonda

Vinusha is a master's student at the University of Michigan School of Information with a focus on human-computer interaction and user experience (UX) research and design. During her time at the School of Information, she has worked on various UX projects with the Department of Veteran's Affairs, Gale Cengage, and the Michigan Institute for Clinical Health Research (MiCHR).
At CHRT, Vinusha will support CHRT's communications team as it conducts an analysis and usability testing of the Washtenaw County Community Mental Health website. She is passionate about incorporating accessibility into design and using design principles to promote inclusivity and equity. She is especially interested in the intersection of health and UX design.
Vinusha holds a bachelor of science degree in health science from Manipal University, a bachelor of biological science from the University of Michigan – Dearborn and has experience as a network engineering consultant at AT&T.