Welcome to CHRT, Lisa Jeun and Poonam Yadav
May 10, 2022 | CHRT News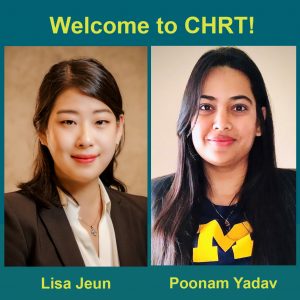 At CHRT, we're always looking for new ways to improve our team. One of the ways we do this is by continuing to add experts, which is why we're so excited to welcome two new members of our team—Lisa Jeun and Poonam Yadav.
Lisa Jeun is an accountant at CHRT, responsible for managing all accounts payable and accounts receivable. She is also preparing the monthly and year-end financial reports and maintaining records and schedules required for annual external audit and tax reporting. Yeun holds a master's degree in accounting from the Rochester Institute of Technology, and dual bachelor's degree in accounting from Eastern Michigan University and Keimyung University, South Korea. 
Poonam Yadav is a member of CHRT's research and evaluation team with responsibilities for the Law Enforcement Assisted Diversion and Deflection (LEADD) program evaluation, Michigan Physicians Survey development and analysis, and the Promotion of Health Equity project. Yadav earned her master's in public administration from Wayne State University, and is certified in data science (IBM), survey data collection and analysis (University of Maryland), and opioid crisis prevention, education, and practice for non-prescribing providers (University of Michigan).
Welcome to the team, Lisa Jeun and Poonam Yadav!