Here's the current state of programs supporting Michigan's 1.7 million caregivers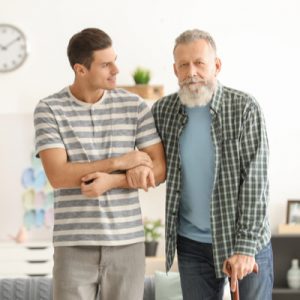 Like most of the United States, Michigan's population is aging. Accordingly, the number of unpaid family and informal caregivers—those who support others with tasks related to daily living, such as transportation, feeding, and bathing—has increased substantially over the last three decades.
The AARP Public Policy Institute estimated the economic value of unpaid caregiving at $470 billion in 2017. For reference, this value is greater than all out-of-pocket spending on health care in the U.S. in 2017 ($366 billion). It is also greater than the combined spending from all payers on long-term services and supports, including post-acute care, in 2016 ($366 billion).
There are new policies and programs to increase support for unpaid caregivers. However, continuous quality improvement can only come by understanding the true reach and efficacy of caregiver support programs.
OUR WORK:
On behalf of the Michigan Health Endowment Fund, CHRT conducted a scan of Michigan's caregiver support programs to explore:
The reach, efficacy, and evidence of these programs, as documented in practical and scholarly literature.

The caregiver population in Michigan and the characteristics of those who do and don't engage in caregiver support programs.

The levels of reach and engagement in Michigan-based programs and the capacity of organizations to meet the needs and demands of family and informal caregivers.

The ways that informed grant making could improve family and informal support programs around the state.
This report outlines the most common types of caregiver programs, how they are delivered, their reach, and the barriers they face as they seek to support diverse residents who might benefit from their programs.
The report also lists recommendations for expanding the reach and impact of Michigan's caregiver programs.
Furthermore, CHRT researchers developed an infographic that outlines some of the most salient data on caregiver demographics, the services and benefits they provide, and the challenges they face within the state's limited support system.
The infographic also includes important recommendations for supporting Michigan's caregivers, specific to state legislators, funders, caregiver organizations, and community members.