Congratulations to the 2018 class of Health Policy Fellows
May 17, 2018 | CHRT Fellowship Year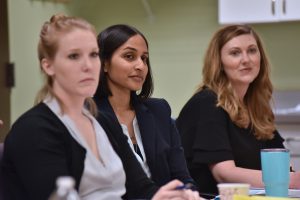 The Center for Healthcare Research and Transformation (CHRT) is pleased to introduce its 2018 Health Policy Fellows, including six University of Michigan researchers and six Lansing-based policymakers, who recently completed a 15-week fellowship program designed to translate health research into policy.
"Health researchers want their work to have impact at the community, state, and national level. And policymakers and decision leaders want to make evidence-informed choices in real time," says Marianne Udow Phillips, executive director of CHRT. "Our fellowship program engages both researchers and policymakers to help them learn to speak the same language while exploring pressing health policy challenges, the political and policymaking environment, and more."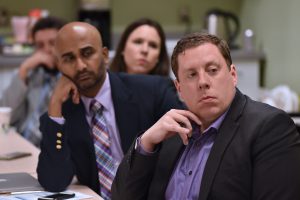 Since 2012, 72 fellows have graduated from the CHRT Health Policy Fellowship program. All fellows receive an introduction to the history of health policy, as well as instruction in contemporary health policy challenges and debates. Then research fellows focus on the legislative process, working with the media, and writing effective op-eds, while policy fellows learn about the research process and the state of scientific evidence in their areas of interest. at the conclusion of the fellowship, research fellows produce op-eds for publication and one-pagers for legislators, then go on to participate in policy-relevant research projects such as updating child passenger safety legislation in Michigan, expanding the Healthy Kids Dental Program, and more.
"CHRT's policy fellowship helped me further understand the complexity of the health care system while connecting me with researchers who did a wonderful job helping me see the real life implications of their research," says Sarah Smock, health policy advisor for the Michigan State Senate Majority Policy Office and an alumna of the program. "Having access to that kind of knowledge has proven to be such a valuable resource as proposals and policies are being developed. When policymakers, scholars, and practitioners communicate in that way, we all benefit."
The 2018 CHRT Health Policy Fellowship class includes:
Health researchers, all members of U-M's Institute for Healthcare Policy and Innovation:
Michigan policymakers and decision leaders:
Stay informed about CHRT's work and request information about how to apply for the 2019 Health Policy Fellowship program.
With heartfelt thanks to our 2018 Health Policy Fellowship sponsors: Michigan Medicine, Blue Cross Blue Shield of Michigan, Michigan Health & Hospital Association, DMC Foundation, Michigan Dental Association, and MSMS Foundation.