COVID-19 rapid response brief: Best practices for protecting populations in nursing homes, long-term care settings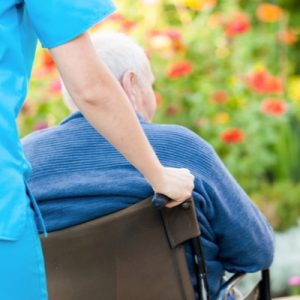 Throughout the COVID-19 crisis, staff members at the Center for Health and Research Transformation (CHRT) have been conducting rapid response research for Michigan policy leaders who are working proactively to protect vulnerable communities across the state. In this analysis for the Michigan Department of Health and Human Services, we explore best practices for protecting populations in long-term care settings such as nursing homes during the COVID-19 pandemic.
Nursing homes across the country have been under federal orders to protect their especially vulnerable residents for weeks now, but outbreaks continue to occur. In Michigan, nursing home facilities around the Detroit area have been particularly impacted.
The prevalence of COVID-19 in nursing homes suggests that bans on visits, infection control procedures, and the provision of additional resources have either arrived too late or have not been sufficient. Many states are looking at new solutions to keep nursing home populations as safe as possible. Beyond following standard CDC guidance, a variety of approaches have been taken to address the spread of COVID-19 among these populations.
Some innovative strategies being taken to protect nursing homes include deploying strike teams, requesting waivers of CMS billing and auditing rules to extend practice privileges to new and retired providers to combat workforce shortages, expedited testing and health screening of staff and residents, and using technology in creative ways to lessen the burden of social isolation that many seniors feel since they cannot have visitors.
In addition to safety issues within nursing homes, many hospitals are challenged to discharge patients back to nursing homes they resided in before their hospitalization. In many cases, these issues have extended beyond those patients who are confirmed as COVID-19 positive. Nursing homes fear that taking back any patient who has had a recent hospital stay without a confirmed negative test could put other residents and staff at risk.
In this brief, we explore strategies and identify best practices to keep populations in long-term care settings such as nursing homes safe during the COVID-19 pandemic.