Telehealth for people with disabilities: here are the challenges and opportunities policymakers should consider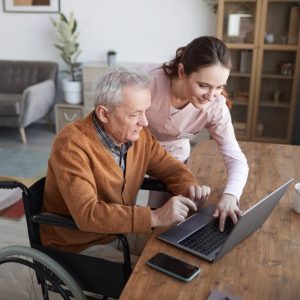 Telehealth was a lifeline for people with disabilities during the COVID-19 pandemic. Federal and state policy changes allowed clinics, health systems, and providers to expand telehealth services, which benefitted people with disabilities.
People with disabilities, approximately one in every four Americans, are six times more likely to have ten or more physician visits and five times more likely to be admitted to a hospital. So there is a high need for accessible care.
Findings
Telehealth is known to:
Increase access to care by reducing transportation needs and wait times while increasing access to specialists in shortage areas.
Reduce costs by improving continuity of care, which lowers the likelihood of a high-cost care situation.
And promote independence by empowering people to manage their own conditions.
However, people with disabilities may find it difficult to access telehealth.
One Pew Research Center study found that people with disabilities were 20 percent less likely to own a computer, smartphone, or tablet compared to people without disabilities. And because 26 percent of people with disabilities live at or below the poverty line (2019) they can't always afford high speed internet or advanced technology.
In addition, telehealth isn't well designed for people with disabilities.
Conclusions
Policy and decision leaders should consider the needs of people with disabilities as they review telehealth policies.
In this new brief, CHRT describes telehealth opportunities and barriers for people with disabilities. CHRT offers national and state policy suggestions to make these services more accessible, functional, and supportive for people with disabilities.