Bloomberg cites CHRT's nursing home policy research; argues that criticism of the Whitmer Administration is unfounded
March 10, 2021 | Bloomberg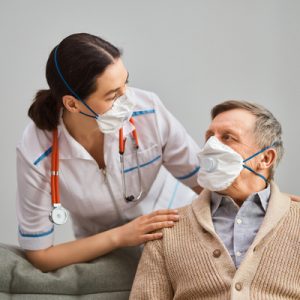 In a Bloomberg News article, Republicans Seize on Nursing-Home Deaths to Weaken Democrats, David Welch and Gabrielle Coppola quote Marianne Udow-Phillips discussing the Center for Health and Research Transformation's (CHRT) recent research on Michigan's nursing-home policies during the COVID-19 pandemic.
Michigan Republicans have asked the state's attorney general to investigate how Governor Gretchen Whitmer handled nursing home policy during the early stages of the pandemic. This is part of a nationwide pattern of Republican lawmakers criticizing Democrats for their handling of the pandemic, and specifically for the rates of deaths in nursing homes.
Welch and Coppola argue that these accusations are unfounded. In the case of Governor Whitmer's policies in Michigan, they observe that CHRT's research into nursing home policies in the state found no major problems. Overall, CHRT discovered that Michigan's hub concept worked successfully. In Michigan's nursing home hubs as compared to non-hub nursing facilities, the percentage of COVID-19-positive residents who passed away was significantly lower. This research, conducted by Cristin Cole, Erica Matti, Robyn Rontal, Jaque King, and Marianne Udow-Phillips, evaluated Michigan's COVID-19 nursing home strategy and made recommendations for improvements.
Udow-Phillips told Bloomberg, "I hear these allegations [against Governor Whitmer] and ask, 'Where is the evidence?' There is no evidence. We found the governor's strategy to be reasonable and appropriate, especially at the time."