CHRT welcomes four new team members
August 14, 2023 | CHRT News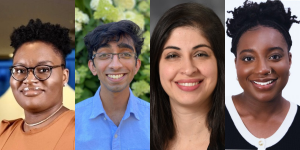 Since our last newsletter, CHRT has welcomed four new team members. 
Jadrienne Horton
Jadrienne Horton is a project manager for CHRT's research and evaluation team. Horton previously interned with the team through the American Evaluation Association's 2022-2023 Graduate Education Diversity Internship program, assisting with the Year 1 Evaluation Report for the Washtenaw County Law Enforcement Assisted Diversion and Deflection (LEADD) pilot. Horton recently graduated with a dual master's degree in public health and social work from the University of Michigan. She has interests in working with marginalized racial and ethnic minority groups and underserved populations to raise awareness about environmental and social injustices impacting their communities. She is also passionate about incorporating race equity into evaluation and research practices.
Abdullah Hashsham
Abdullah Hashsham is an associate analyst on the health policy and health and social equity teams at CHRT. He assists with the Washtenaw Health Initiative and works with the health policy team on Medicare, Medicaid, and long-term services and supports projects. Before joining CHRT, Hashsham was a research lab technician in the Affinati lab at the University of Michigan, studying diabetes from a neuroscience lens. Additionally, he interned at the Center for Healthcare Innovation, a Chicago-based non-profit, where he supported health equity initiatives on clinical trial diversity, affordable care, and children's mental health. Hashsham earned his bachelor's degree in public health from the University of Michigan.
Janan Saba Landsiedel
Janan Saba Landsiedel is a senior project manager at CHRT, supporting the objectives of the health and social equity team. She currently serves as the project manager for the Promotion of Health Equity initiative partnering with regional health organizations, Michigan Medicine, and the Michigan Department of Health and Human Services. Prior to joining CHRT, Saba Landsiedel supported quality improvement initiatives at Henry Ford Health. Additionally, she served as chair of the Michigan State Advocacy Committee for the American Heart Association. She holds a Master of Public Health with a concentration in global health from George Washington University, a bachelor's degree in psychology from Albion College, and a professional certificate in project management.
Nailah Henry
Nailah Henry is an analyst on the health policy team at CHRT. She is committed to public health education, community health engagement, and advancing the understanding of health disparities. Henry has worked as an associate clinical research coordinator at Michigan Medicine and as a research assistant at Wayne State University and the University of Michigan. She holds a master's degree and bachelor's degree in public health from Wayne State University.